The 30th Annual Great Drake Park Duck Race is happening on Sunday, September 8, 2019. Be sure and buy a duck (or many) today to have your chance at winning one of 17 prizes — including a $20,000 Grand Prize voucher for a vehicle from Robberson Ford!
Where to Buy Your Ducks
Ducks cost just $5 each, and are available at any Mid Oregon Credit Union location, as well as locations of the other sponsoring credit unions, including First Community Credit Union, OnPoint Community Credit Union, and SELCO Community Credit Union. You can also purchase a duck from any member of the four local Rotary Clubs.
Prizes include:
Duck Sales Support Local Nonprofits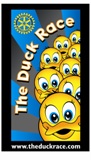 In the 30 years since the first ducks hit the water in 1989, the Great Drake Park Duck Race has generated approximately $1.8 million in funds to support local nonprofits and charitable organizations.
This year, the funds from duck sales will benefit these local nonprofit organizations:
Bend Rotary Clubs Lead The Way
The Great Drake Park Duck Race is organized by the four local chapters of Rotary International: Rotary Club of Bend, Rotary Club of Bend Mt. Bachelor, Rotary Club of Greater Bend, and Rotary Club of Bend High Desert.
For updates on the activities on Race Day, as well as details about the nonprofits featured in this year's event, please visit www.theduckrace.com. Hope to see you there!