By T. Myers, published in the La Pine Chamber Connection
In a sunny ceremony on Thursday October 15th, Mid Oregon Credit Union officials, Board of Directors, staff members and invited community members gathered in the lot next to St. Vincent's on Huntington Road to take a golden shovel to the dirt and start the building process that will result in a new Mid Oregon Credit Union branch in La Pine that is slated to open in the Spring of 2016.
Jan Uffelman, the Board Chair for the Credit Union joined La Pine City Councilor Dennis Scott, Sunwest Builder's Steve Buettner, Mid Oregon CEO Bill Anderson, Board Member Doug Nelson, Cory Misley, Assistant City Manager for La Pine and Board Member Tim Johnson in lifting the first shovels of dirt.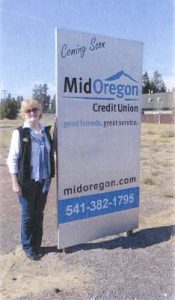 Bill Anderson described the process that had been a decade in coming and he thanked his staff on the ground in La Pine, Tiffany Zeiler, for her good work, and gave a nod to Wayne Hanson and Kyle Frick for their leadership in pursuing the new branch in La Pine. Chairman Uffelman added that the process to have a La Pine branch began over ten years ago when they put La Pine on their long range development plan. With permits in place, an approved plan ready to go, Mid Oregon Credit Union will add this new branch to serve the over 1100 members thatlive in the area between Sunriver and La Pine and to be able to offer many more of the individuals and business here in this part of the tri-county area that MOCU has a mission to serve!
After the first shovel full, the community members who came to celebrate this new project joined the MOCU Board and Bill Anderson for a photo of the ground breaking event. Currently there is a local (Lending) office located in the Bancorp Mall. At this point, they can assist new customers in opening up accounts that will soon be held at the La Pine branch. For additional information you can call 541-382-1795.
Note: Justin Kackley will be the project manager on this project and Al Bufton will be the onsite superintendent. Sunwest's goal is to start construction on October 26th.