Mid Oregon Credit Union members were generous with 2021 Adopt-a-Bear donations, raising more than $6,100 for Healthy Beginnings. Thank you!
Throughout April, Mid Oregon members and the community supported Healthy Beginnings by "adopting a bear." They donated at branches, online at www.midoregon.com, and over the phone. Additionally, Mid Oregon accepted donations at its annual Free Shred event with Republic Services on April 17.
Continued Support of Adopt-a-Bear Donations
Nearly 40% of children enter kindergarten with a barrier to success. Healthy Beginnings provides free health and development screenings to identify barriers and connect families to life-changing services. Their goal is to make sure every child enters kindergarten ready to learn, contribute, and thrive. To date, Healthy Beginnings has served more than 10,000 children in Central Oregon.
Since 2004, Mid Oregon's Adopt-A-Bear fundraiser has raised close to $35,000 for Healthy Beginnings.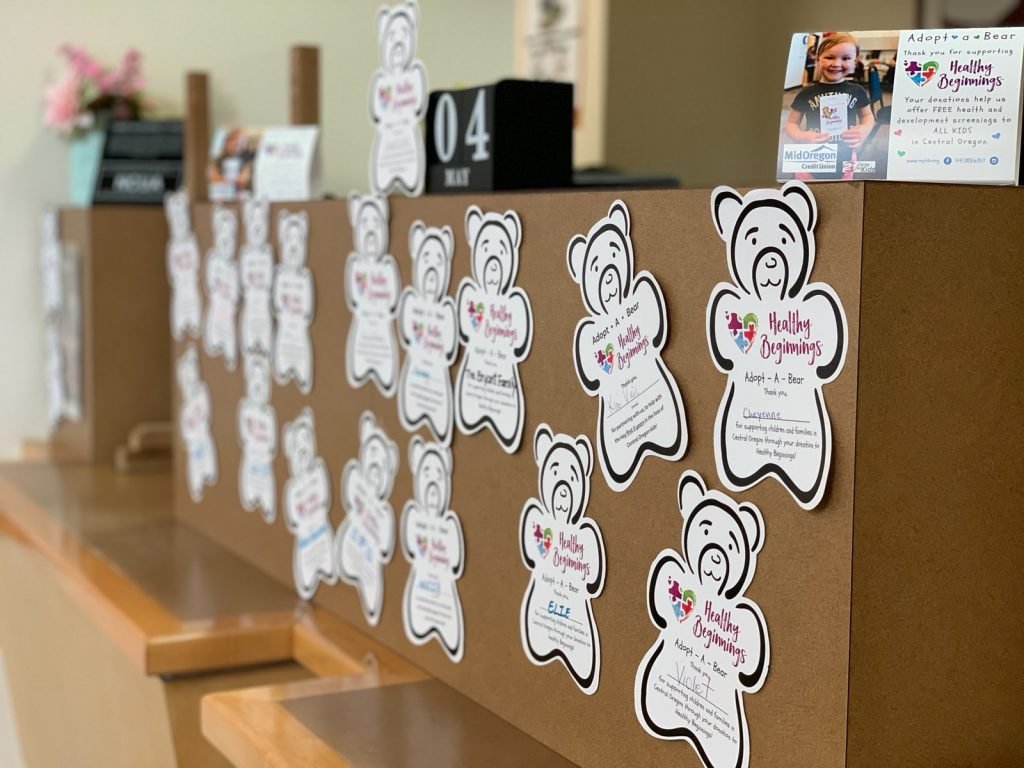 "We are amazed by our members' generosity with community initiatives, like the Adopt-a-Bear donations," says Kyle Frick, VP of Marketing and Community Relations. "Their contributions make sure more children have access to screenings."
Executive Director of Healthy Beginnings Kathleen Cody adds, "Mid Oregon Credit Union has been a valued partner for over 15 years. They share our commitment to helping all children enjoy a brighter future."
About Healthy Beginnings
Healthy Beginnings is a registered 503(c) non-profit organization in Bend, Oregon. Their screening services are available in Deschutes, Crook, and Jefferson counties. To learn more, visit www.myhb.org.