Since the middle of 2015, Drink Tanks has been a business member of Mid Oregon Credit Union. We are thankful that we have been able to support this relatively new Central Oregon company in its fast growth with some timely financing.
Nicholas Hill Revolutionized the Personal Beer Container Industry
In 2013, Nicholas Hill launched Drink Tanks to change how people drink beer. His vision of Drink Tanks was to craft beer containers using new creative initial fundraising methods while building the business and bringing jobs to Bend. From www.drinktanks.com:
"Nicholas Hill began developing the DrinkTanks growler…he noticed that, despite the burgeoning national craft beer scene, there wasn't a container on the market that treated craft beer with the same care and respect that the brewers put into it. Despite incredible innovation occurring within the craft beer scene, the portable containers used to carry beer had stayed the same.
"With the help of his father, Dr. Tim Hill, he began developing a design that would revolutionize personal beer containers. Dr. Hill passed away in 2011, but Nicholas continued to develop the idea. In 2013, Engineer John Herrick joined the team and helped finalize the initial design. Eschewing traditional fundraising methods, Nicholas launched a Kickstarter campaign to bring the DrinkTanks Growler to market. The campaign was a wild success, launching DrinkTanks into the spotlight of a worldwide audience of craft beer enthusiasts.
"Rather than outsourcing the majority of the labor put into the product, Nicholas opted to move as much of it in-house as possible. He set up a manufacturing facility where all of the powder coating, custom engraving and assembly for every DrinkTanks product are currently done. By retaining the labor in-house, DrinkTanks is able to bring jobs to Nicholas' hometown of Bend, Oregon, as well as ensure that the quality of the overall product is far superior to any other growler on the market."
How Mid Oregon Helped Drink Tanks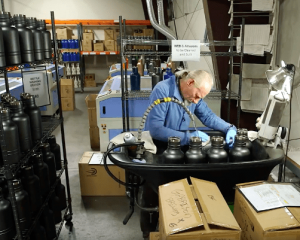 Maureen Parco, Drink Tanks Controller, shared with us last month about how Mid Oregon has been as a commercial partner:
"Drink Tanks Corporation sells beer growlers and accessories here in Bend, Oregon. Founded in 2013, I don't believe our company would have been as successful as it is today without the help of Mid Oregon Credit Union (MOCU).
"MOCU (Mid Oregon Credit Union) believed in the potential of Drink Tanks Corporation, which empowered our executives to reach even higher levels.
"For the past several years, MOCU has been helpful in this success by providing financing in several areas. They partnered with the Small Business Administration to provide an inventory and working capital loan which enabled us to grow and deliver products on time. They financed equipment purchases we utilized to modernize our plant. They were instrumental in helping acquire a suitable 18,000 sq. ft. facility. We recently completed the financing of a vehicle to travel to various events in Oregon and elsewhere, which boosts sales. MOCU has been central to providing that stepping stone to move from 'small' to 'medium' to 'large'.
"MOCU has not only provided financing, but they have been a great help with advice and information about what may be available for Drink Tanks. An example is the Energy Program which we pursued, saving not only money, but helping the environment.
"We look forward to many years of a strong bond and partnership between the Drink Tanks Corporation and Mid Oregon Credit Union. Without this resource, I don't believe we would be where we are today."
More About Drink Tanks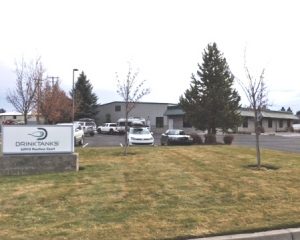 DrinkTanks
62910 Peerless Court
Bend, OR 97701
(541) 728-5579
Website: https://www.drinktanks.com
Blog
Facebook
Instagram
Their Philosophy:
Quality and Continual Improvement
Local Responsibility
Environmental Responsibility