Have you ever been surprised by your grocery bill after checking out? Whether it's inflation, that buy-one-get-one-half-off deal, or the bright, shiny packaging displayed so cleverly— it's easy to let our grocery bill get too big if we're not careful.
According to the Bureau of Economic Analysis, Oregon's yearly average per-capita grocery expenditure is $4,104. This translates to $342 per month/per person (or $1,368 for a family of four) depending on your appetites and where in the state you live. This can be a significant amount of money for many households already struggling to make ends meet.
Spending money on food is non-negotiable—we have to eat, but there are ways to keep that expense under control.
Figure out how much you can reasonably spend on food
Financial advisors suggest spending no more than 10% of your income after taxes on food. That includes the supermarket as well as restaurants. If you want actual figures worked out for you, check out the USDA's website for food plans based on averages for four levels: thrifty, low-cost, moderate, and liberal plans.
Make a shopping list
There are many grocery shopping apps available. Find one that fits your needs. These help you create digital shopping lists, including some that offer digital coupons. If you prefer going old school, make your list with a pen and paper and post the list on a board in your kitchen. As you run low on items, put them on your list. Then, when it's time to shop, stick to that list and try to avoid impulse buying.
Use reward programs
If you use a major retailer, the store will likely have a store reward program. Make sure you sign up for it to get store discounts and coupons. The store may even have its own shopping app.
Use your Mid Oregon VISA Rewards points
With the Mid Oregon Everyday Rewards VISA you receive a point for every $1 and double points for gas and groceries: $1,000 gas/groceries = 2,000 points; $500 miscellaneous purchases = 500 points. Total of 2,500 points = $25 in prepaid gift cards or cash!
Consider ordering online
Not only does it save you a trip inside a store, it also keeps a running total of your expenses before you check out. If you go over your shopping limit, you simply take certain items off your list to bring down your total. Ordering online can also lessen impulse buying.
Track your food spending habits
Keeping tabs on your purchases can help keep you on budget. Mid Oregon offers a Financial Wellness widget in Digital Banking providing an accurate snapshot of your finances. Your transactions are automatically categorized allowing you to stay on top of your spending and budget. See how much and where you spend, giving you control of your finances and access at a glance.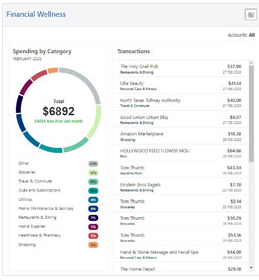 Buy only what you need
Avoid buying anything simply because you have a coupon or because the store offers a bulk discount. If you can't eat 2 bags of salad greens in a week, a "buy one get one 50% off" offer will simply fill your garbage can with wasted food. Another rule of thumb is not to go to the store on an empty stomach—even that canned cheeseburger (yes, it's a thing) looks good when you're hungry.
By following the tips above and making smart decisions, you can reduce your food spending. Keeping your food expenses under control is easy with a little planning. The digital tools available makes this even easier. The hardest part will be controlling your impulse to reach for a sweet treat before checking out, and for that, you're on your own.