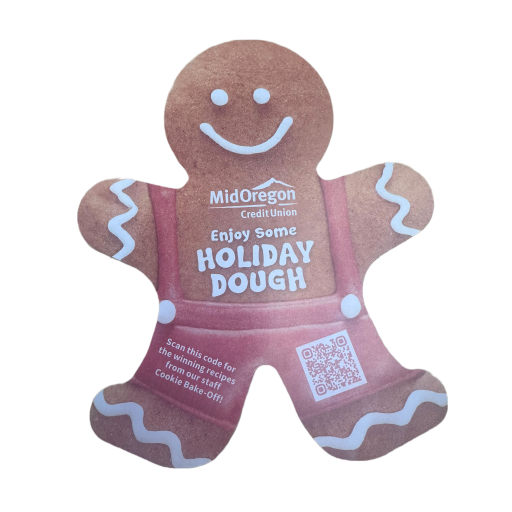 Sometimes putting food on the table is a daily challenge. This time of year can be especially difficult for some families. Rising food and fuel costs are putting an added strain on many local households. For more than a decade, Mid Oregon Credit Union has partnered with our members and other community members to bring holiday cheer to local families through Holiday Dough. We are asking you to join us and Give—and Receive—Holiday Dough.
How You Can Help
We invite the community to participate in our annual Holiday Dough fundraiser. It supports local charities to provide food, clothing, and shelter to individuals and families in need during the holiday season. From November 14 to December 16, We are collecting donations at each of our seven branches. In addition, you may make donations online at midoregon.com/dough or by calling our Contact Center at 541-382-1795. One hundred percent of the contributions will stay in the communities where collected and will benefit these local nonprofits:
2022 -Nonprofits
Making a Difference in the Community is a Mid Oregon Core Value
Giving back to the community is a core value of Mid Oregon. Giving back also aligns with our credit union philosophy of "people helping people."
"When putting food on the table is a daily struggle, planning a festive holiday meal can be almost impossible," says Kyle Frick, VP of Marketing for Mid Oregon Credit Union. "We are humbled by the community's generosity and honored to facilitate this effort that supports those who are less fortunate."
Since 2011, Mid Oregon members and the community have donated nearly $29,000 to local food banks through Holiday Dough—helping to bring holiday cheer to local families. This year, we have ways to both give-and receive-holiday dough.
How You Can Receive Your Holiday Dough
Plus, this year we're sharing some "dough" with you! Visit our Holiday Dough Page. Be sure to view and download the winning recipes from our Mid Oregon Team Cookie Contest. We invite you to share them with family and friends this season–let us know your favorites!