Our Holiday Dough branch fundraiser finished up last week, and the totals were amazing—even by 2020 standards.
Our branches collected nearly $8,700 in donations, more than doubling last year's fundraising total of $3,480. We received donations ranging from a few pennies, all the way up to a $500 donation from a Bend-area art gallery.
In a year full of disappointments, we were astonished by our community's generosity and willingness to give.
Need is greater, and so is community support
Traditionally, Mid Oregon's Holiday Dough fundraiser invites members to make small cash contributions at the branches to assist local food pantries with holiday meals. This year, we predicted the need would be greater—and the branch traffic would be lower.
So we introduced another option. We launched an online form to make it easier for members to donate without having to visit a branch. And they came through!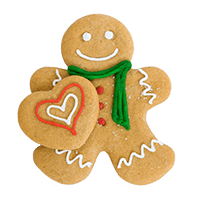 Mid Oregon is proud to partner with these local non-profits to provide holiday meals for local families in need:
It's not too late!
Do you want to support these excellent nonprofits during the holiday season? Please visit their websites, or contact by phone to arrange to make your donations of cash or food items. Please make sure to contact the agencies in advance to verify that your donation adheres to their individual COVID-19 protocols.
To see other ways that Mid Oregon supports our communities, feel free to visit our Community Involvement page for a full listing of fundraisers, community events, and corporate sponsorships.